Imaging Healthcare Specialists – La Jolla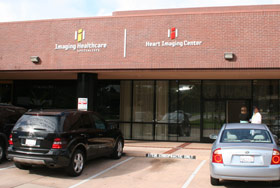 (Located inside of the Regents Medical Plaza)
4150 Regents Park Row, Ste 195
La Jolla, CA 92037
Parking
3 parking spaces available in front of office. Additional parking located in underground parking garage under the office building.
Parking Fee
Underground parking garage is free with validation. Ace parking above ground by shops has a fee, no validation available.
Phone: (858) 658-6500
Office Hours of Operation:
All X-rays are done on a walk in basis. Once you arrive, if the office X-ray is full for the day, the site will assist in getting you on the schedule within the next few days to avoid extended wait times.
Monday-Friday
8:30 am – 4:30 pm
Office Hours:
Monday-Friday
6:30 am – 9:00 pm
Saturday and Sunday (MRI and Ultrasound Only)
7:15 am – 5:00 pm
Procedures at this location:
Computed Tomography (CT)
Mammography
Prostate MRI
3T MRI
Ultrasound
X-Ray