MyIHS Online
For Physicians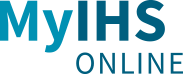 Due to available capacity and adequate staffing, we are discontinuing the services below:
Thyroid Fine Needle Aspiration (FNA)
Obstetric Ultrasound Greater than 14 Weeks
Diagnostic Mammogram IF the screening was NOT completed at IHS
Biopsies IF the initial imaging was NOT completed at IHS
CT Guided Biopsies
We understand that this may create an inconvenience to patients, and we apologize for any disruption this may cause. We remain committed to providing high quality care to our community and ensuring that patients receive the best possible care. Therefore, we recommend referring OB US greater than 14 weeks to a perinatal center. FNA and biopsy procedures are recommended to be referred to a hospital setting.
MyIHS Online for Physicians Overview
View and print reports
Immediate real-time access
Easy search, view, print, download to your EMR
Previous exams available for comparison
Online exam ordering
Convenient and user-friendly (No faxes)
Track your exam referrals and order status
Easily attach documents to your online order (Labs, Ins Cards, H&P, Chart Notes)
View real-time exam status
At-a-glance display of patients
View scheduled exams by location, date and time
Confirm exam status
Viewing images
Easily search for patient images
History load for previous exams and comparison
A partner you can trust
Thank you for visiting our website, and for your consideration of referring patients to Imaging Healthcare Specialists (IHS).
We understand that where you choose to refer your patients is a direct reflection on you and your practice. At IHS, we're constantly going above and beyond what is expected from an outpatient radiology provider, delivering a level of quality and service uncommon in healthcare today. It's something we call the BIG PICTURE and we're confident that you'll enjoy working with us and our team to deliver the best possible care to your patients.
To learn more about our 10+ imaging centers throughout Southern California, tests offered and our professional capabilities, please click on one of the links below.
Imaging Healthcare Specialists' Services for San Diego-area Patients
Imaging Healthcare Specialists' Physician Resources
To learn more about Imaging Healthcare Specialists physician resources, please email us at info@imaginghealthcare.com. We service physicians throughout the San Diego area including Vista, Poway, Oceanside, La Jolla, Chula Vista, Encinitas and San Diego.