Imaging Healthcare Specialists – Chula Vista (South Bay) Imaging Center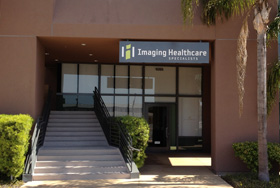 (Located in the Gateway Building)
333 H Street
Imaging Center – Ste 1095
Women's Center – Ste 1005
Chula Vista, CA 91910
Parking
Parking garage located behind the office building (please do not park in VA designated parking spots).
Access the parking garage from one way off Third Ave or off H St and Garret.
Follow the direction signs posted for Imaging Healthcare Specialists.
Parking Fee
None
Phone: (858) 658-6500
All X-rays are done on a walk in basis. Once you arrive, if the office X-ray is full for the day, the site will assist in getting you on the schedule within the next few days to avoid extended wait times.
Monday – Friday
8:00 am – 5:00 pm
Saturday
8:00 am – 3:30 pm
Office Hours of Operation:
Monday-Friday
5:30 am – 9:00 pm
Saturday & Sunday
7:00am-5:15pm
Procedures at this location:
Computed Tomography (CT)
DEXA Bone Densitometry
Mammography
MRI
Ultrasound
X-ray